The Experience Map and the Certificate of Intercultural Mentoring are currently being developed by eight universities collaborating within the framework of the Erasmus + Strategic Partnership "Connect" (2015-2018). They are in a prototype stage. The complete version will be released on the first of September 2018. The prototype is already usable and is open for you to access!
All information and experiences already collected about host universities are available for free here.
Universities can register here to get a pin and take part im the project for free until the end of August 2018.

Do you have any question? Please contact Mathilde.Berhault@uni-jena.de
We offer places for our Project Launch and Workshop from 20th to 24th June 2018 in Karlsruhe, Germany (Karlshochschule). Registration here.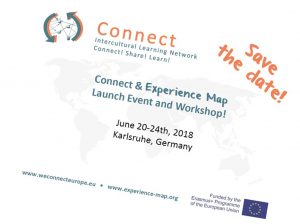 Letter of Intent
Your university wants to take part in the project? Please fill in the following letter of intent. You can also download it here and send it to Mathilde.Berhault@uni-jena.de

** Due to technical issues, we did not receive Letters of Intent filled in online before May 24th, 2018! If you filled in a Letter of Intent before this date, please contact Mathilde.Berhault@uni-jena.de**